Sole Connection Theraputic & Prenatal Massage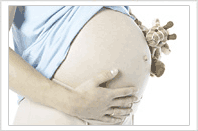 Cynthia is excited to offer 10 years experience giving prenatal massage to the greater Moose Jaw area. The expanding popularity of prenatal massage is a result of the modern tendency to increase levels of well-being, education and opportunity. Your growing and changing shape is one of nature's most incredible occurrences. Knowledgeable pregnancy massage therapists can help you gain the most from this specialized treatment.
Importantly, the prenatal period can be a very stressful physical and emotional time for a mother-to-be. Proper management of stress itself is of great consequence. Clearly documented evidence exists to suggest that very high levels of stress may increase the probability of pre-term labor and lower birth weight of the newborn.
$50 for 30 minutes
$65 for 45 minutes
$80 for 60 minutes
$105 for 75 minutes
$125 for 90 minutes
*All prices do not include tax. Essential oil add on available for $5 (2 oils) or $10 (5 oils)...please mention oil add on in the Notes section when booking...
CLICK HERE to book your prenatal massage